This annual event supports the NAFA Foundation's mission to provide funds that promote industry research and implementation.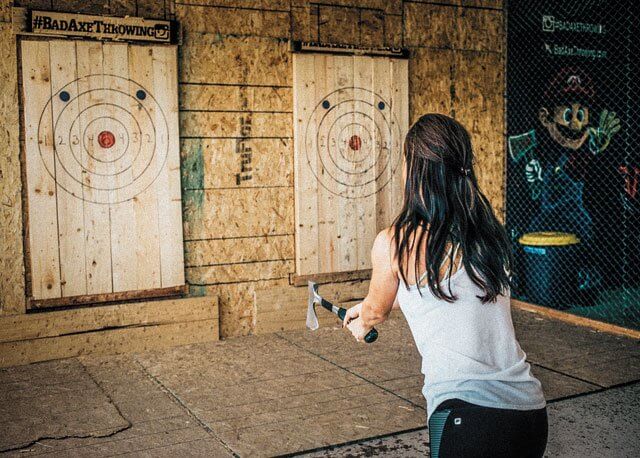 Axe Throwing
Wednesday, September 13
2:00 – 4:30 pm
This year, Nashville posed some challenges to accommodate our group and provide a shotgun start golf tournament. Instead, your abilities to "hit the target" will be tested in an axe throwing excursion in downtown Nashville.
Join in for a one-of-a-kind experience: indoor axe throwing at Bad Axe Throwing! No experience or athletic ability is needed. Your personalized axe throwing coaches will teach your group how to throw an axe within three throws and turn everyone into an axe-throwing pro, just in time for the team-based bracket style tournament! $150 fee includes transportation to and from the venue, appetizers, drinks, and a local Nashville band.
About the Foundation
Established in 2008 as a 501(c) (3) organization, the NAFA Foundation provides and promotes industry research, implementing the results of research to application, so that it will benefit all of air filtration and the industry of which NAFA member companies support. With the advent of higher energy costs, nano-filtration, LEED, and sustainability, research in the best application of these will help members best address the needs of their clients and customers.
Funding for the various research projects is made possible through the generous sponsorship opportunities provided for by NAFA member companies and their employees.
All societies progress through education. The NAFA Foundation funds member, family member, and company member scholarships (three scholarships annually - $2500 each). Funds for the scholarships are generated through annual golf outings, miscellaneous raffles, and other related events, typically held in conjunction with the Technical Seminar and Annual Conference. Recipients of the scholarships are recognized at the Annual Conference each Fall.
Industry research, development of new technology, and advancing the educational opportunities to NAFA's "extended" family of members equally contribute to the success of the Foundation, and ultimately the membership of NAFA as a whole. All financial donations are tax deductible.