Clean air matters . . . And so do you!
Become a member of the world's largest professional air filtration community.
When you become a NAFA member, doors of opportunity open! 
NAFA offers a community of industry leaders and experts in air filtration that you can rely on for support, tools to help you manage and grow your business, and professional development for you, your staff, and those you work with.
Effective October 1 - December 31, Manufacturer, Distributor and Service/Allied Provider membership applicants receive 75% off the membership fee (for membership valid 10/1/2023-12/31/2023).
Membership Benefits 
NAFA offers year-round networking opportunities, ongoing education and professional certification. Plus, numerous ways to promote and grow your business.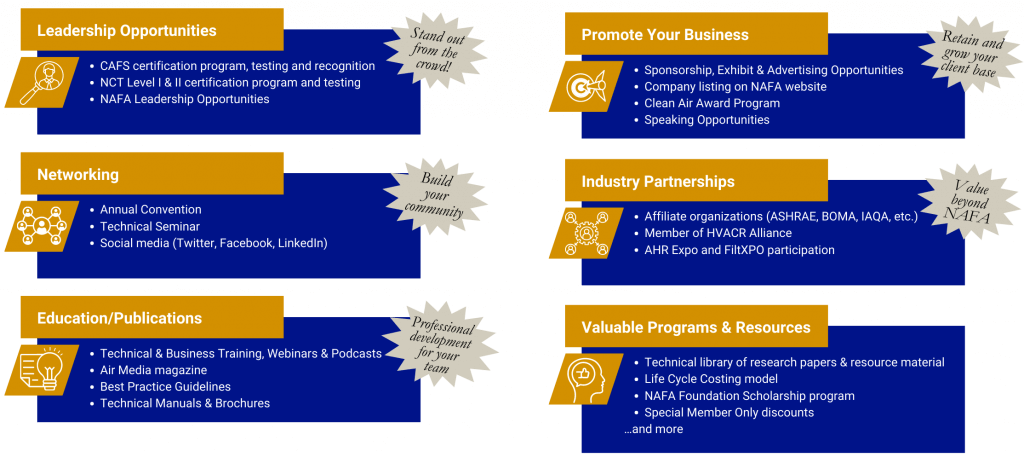 Classifications of Membership 
Are you a manufacturer or distributor? Or maybe you are a service provider or a student? Whether you're looking to grow your company, train your staff, build industry relationships, or just beginning your career, NAFA has several classifications of membership that open the door to opportunity, innovation, information and new connections.
New Member? 
We have resources to help get you get acclimated and ensure you get the most of your membership. The first step? Join one of our New Member Orientation Webinars. We'll give you tools to get started, and connect you with NAFA leaders and other new members.
(Coming Soon!)
Got Industry Contacts? 
Referring a prospect to NAFA has its rewards! If your referral becomes our newest member, you will receive $100 off your next conference registration. Email our association manager with the company name, primary contact email and phone . . . and we'll do the rest!
Invite Your Team!
Need professional development for your employees? Too busy to attend an event? Want more company visibility, but have no time to sit on a committee?
No problem!
At NAFA, we understand the importance of involving your entire team in our learning and networking opportunities. We welcome your entire team with open arms!
Hot tip: The best way to keep your employees aware of upcoming opportunities is to subscribe them to our newsletter, or ask them to follow us on social media @NAFAHQ.
"Anyone that wants to compete in the industry needs to be a part of NAFA
."
~ NAFA Member