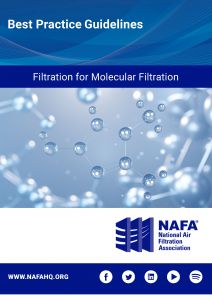 Filtration for Molecular Filtration
This best practice guideline is designed to provide a general overview of how best to apply molecular filtration in HVAC applications where the need to remove gaseous airborne contaminants exists.
This guideline will provide the end user or facility engineer the guidelines to the type of information required to help properly choose the best system for their needs. The NAFA Guide to Air Filtration 5th edition Chapter 11 offers more in depth detail for applying Molecular Filtration. This guideline is meant to be a general overview.